For new moms, diapers are always in season. But this summer marks a new diaper dawn, as Whole Foods Market launches a spanking-new version of the 365 Everyday Value™ Baby Diaper line. And whether yours is a tiny tot or a cuddly bouncing babe, these diapers have got it covered.
The latest 365 Everyday Value™ Baby Diaper will bring to the changing table an improved product at a lower price. With more diapers per package and a price point of $9.99 (yup, that's two bucks off the old rate); parents everywhere can redefine their definition of great value. Improved sizing and a new accordion fastener are sure to guarantee a super fit.
The new line will continue to perform the essential diaper duties:
Protect against leaks. Protect us from pooptastrophe. Deliver us from evil. Guard our laps, couches and cribs from ruin, not just during the routine day to day, but during that 7-hour family road trip when there's no rest stop in sight. With absorbency gel made from a non-toxic super absorbent polymer and the new accordion fastener that ensures a snug fit, 365 Everyday Value™ Baby Diapers keep your kids dry and happy, via natural means.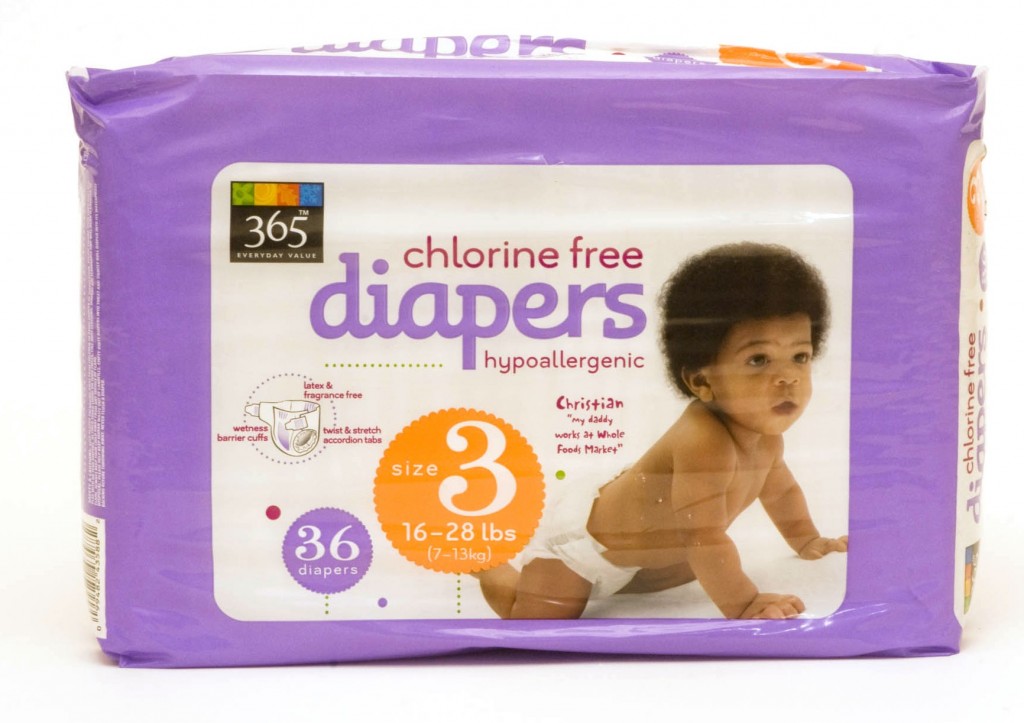 Baby bum preservation. A successful diaper must meet and exceed objective 1 while protecting the delicate skin of your baby's bottom. Comfort is key and so is product make-up. Hello! Harsh chemicals can lead to allergic reactions and diaper rash and have no business being near kids' sensitive skin. 365 Everyday Value™ Baby Diapers are made with chlorine free materials, are hypo-allergenic, latex free, and contain no perfumes or dyes making them a safer, healthier choice for your tot- and the environment. Speaking of…
Minimize environmental impact. Disposable diapers are a mom's best friend and one of the Earth's worst enemies. According to the Clean Air Council, Americans throw away 49 million diapers per day. (Holy crap!) Made from wood pulp fluff sourced from family-owned, sustainably managed forests and with significantly less material than traditional plastic diapers, 365 Everyday Value™ Baby Diapers are responsibly produced and reduce the amount of waste that ends up in our landfills. Because they are chlorine, dye and latex free, these diapers are not only less likely to irritate your baby's skin; they are less harmful to our soil and thus a more sustainable choice for on-the-go eco-conscious moms everywhere.
**From the Press Release**
My Take
Well I am convinced my oldest is going to be in diapers until he is thirty.  He will wear underwear around the house and if you remind him he will go pee in the potty but number 2 is not going to happen.  And taking him in public, let's face it would be easier to train a monkey.  For now we are committed to diapers and I as thrilled to get the chance to try out Whole Foods newly remodeled 365 Everyday Value line.  With two in diapers now it tends to add up very quickly.  The 365 Everyday Value line is priced at $9.99 which I feel is a great value.
As I opened up the package I noticed they are just plain white diapers which means that the company doesn't have to pay royalties to use characters, definitely a cost saving decision.  I was surprised at how soft the diapers were upon first feeling.  I felt they were comparative to Pampers in the softness which is something that I truly look for.  Many diapers are stiff and I just can't imagine how comfortable that is.  Coulter is sensitive to many things and rough clothes and diapers are one of those so I was thrilled to see that it wouldn't be a fight over the feel.
I am sure many of you have the same problem of keeping their tushes covered as they get older.  Our usual diapers slide down and we constantly have to keep pulling them back up over his bum.  The 365 Everyday Line has a nice thick elastic waistband which seemed to keep them up better.
I like that these diapers are latex and fragrance free.  My grandmother is very sensitive to smells and we have had to be cautious about what he is wearing and what his clothes have been washed in when we plan a visit, so it's nice to know that we have a diaper that isn't going to disrupt her senses as well.  You wouldn't think that something like that could have an effect but I notice it every time I open a new package.  Let's face it, it's not truly covering up anything.
Absorbency was wonderful!  We have had to buy nighttime diapers since Coulter was 3 months old because he is a heavy wetter at night and I was impressed that the 365 Everyday Line was able to contain it all.  While I was in the hospital my mom used these because we ran out of the others and he woke up without having to change his bedsheets.  What a relief because we truly pay a pretty penny for the heavier diapers.
Coulter is a very stocky and solid child and the one thing that I did notice is that these diapers seem a bit smaller than our usual ones.  This isn't going to be a problem for most parents and a size 6 is ranged for 35 lbs and up, but we wouldn't be able to stay in them much longer I don't think.
**I received  sample
in 
exchange for an honest review and the opinion above is 100% mine.  I am also not responsible for the mailing of this prize if applicable.  Therefore not to be held responsible if a prize is not received.  **