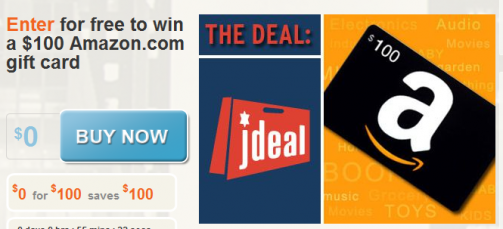 Here is something a bit different but it's a FREE way to get an entry into a $100 Amazon gift card. These offers disappear FAST!! Hurry and enter to win a $100 Amazon.com Gift Card from jdeal! Remember these giveaways are only open for a flash! You just have to sign in and 'purchase' for $0 your chance to win! Good Luck!
FINE PRINT:
Just LIKE any of jdeal's Facebook pages, LA , NY, DC or CHI, and "buy" this jdeal,and you'll have a chance to win the $100 gift card. But act fast–you only have till 2 p.m. EST to enter the drawing.
So what will you buy if you win?For your trip to the K-for-P hotel: Designer luggage.For your gracious Seder hosts: A haute home-decor gift.
For the kids: A-list Afikomen presents.
For you: Sky-high heels and a floral shift dress.
For the extensive prep time: Cuisinart cookware and a new iPod to get you through it.
It's time to get your Passover shopping underway…or just splurge on some little indulgences that you can still enjoy after the holiday ends.
NOTE: The winner will be notified via email, and posted on the jdeal NY Facebook page, jdeal DC Facebook page, the jdeal LA Facebook page and the jdeal Chicago Facebook page, by 5 p.m. EST tomorrow (Thursday).