This is a Sponsored post written by me on behalf of Atlantic Luggage. All opinions are 100% mine.
Four Tips To Keep Packing Simple
If you're a mom, packing for a vacation or weekend trip is not always the easiest thing to do. I know when I'm packing I am always thinking about the 100 other things I could be doing with my time. However, there are some things I've learned to do that help make packing a little easier on this mama.
Instead of packing the last minute I've learned to pack in spurts. Whenever I know I'm going to have about ten minutes I will do a little packing. And let's be honest—I've packed so many times I do not really even need a packing list. I generally know what each boy (and husband) needs, so I can do it pretty easily. It's the "doing" part that takes some motivation.
Have you ever seen some people pack and it looks like they're moving to their destination? I have to say that keeping it simple has been one of the best decisions I've made. I realize that my kids do not need 20 outfits each when we are heading on a week's trip. Instead, I try and keep it as simple as possible. I even leave the shampoo behind and use the hotel's shampoo. Believe it or not that takes some stress off me and even saves me some room.
I think this is one of my more brilliant tips. I wait until a few days until we have to leave. Notice I'm not waiting last minute. I start washing the dirty clothes of the family and pack as the laundry gets done. This saves me a major step because I'm not putting away laundry and then packing. I can just wash the laundry and then pack it straight into our suitcases.
If I could pack all of our stuff into one piece of luggage I could. Up until I started using Atlantic Luggage I would have about a million and one "bags" with all of our things. We each have a Compass 2 suitcase and I'm not kidding when I say it's a life saver. I'm really not one to really talk up my suitcase, but Atlantic Luggage totally has my bragging rights.
If you're heading out on a vacation with your family, then it's wise to invest in a suitcase that is versatile, affordable, and lightweight. As a mom—I do not want to be lugging around everyone's luggage, plus mine. With this lightweight piece of luggage everyone can wheel around their own luggage and I still have a back at the end of the trip. And we all know one of the little ones will have to be carried at some point, so having a rolling style luggage has helped us a lot.
Oh and let's not forget I talk about saving money a lot, so don't think I went out and spent a fortune on luggage. Atlantic Luggage is one of the only luggage companies out there who caters to families and makes luggage affordable for all.
If you would like to buy the same luggage we use—you go can head to Atlantic Luggage's website to check out the pros of each set
.
Enter To Win A Family Vacation For 4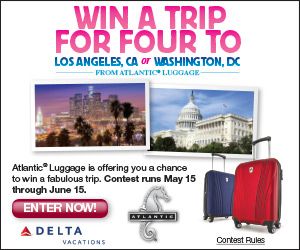 Atlantic Luggage is having a giveaway! One lucky person will win a family trip for 4
to the destination of their choosing, either Los Angeles, CA or Washington, DC!!! Trip includes airfare, hotel, $300 activity allowance, and 4-pieces of Atlantic luggage.
I don't know about you but I could use a paid vacation! Where would you choose to go?